I'm sittting in the Charles de Gaulle airport, leaving France. It almost feels like I haven't been here.
I don't feel at home in France. It feels like I am in "their" country (hence the title of this article). A month and a half ago, I spent two travel-packed weeks in China. April was Italy, where I spent the vast majority of my days waking up, traveling to a new city, lecturing, eating, then sleeping each day. Then repeating that over and over and over. Before that, China, much the same (work, work, work)
It might be that my time in Paris was needed to recover. My six days were spent relaxing. One afternoon I went out and visited my friend Yves, and his friend Alafrez. I almost missed that meeting because I slept in.
I planned to go see the Eiffel Tower on Sunday, but rain discouraged me. I saw it, the Mona Lisa, the Arc de Triomphe (and much more) about three decades ago. It felt nicer to stay in the AirBnB in north Paris, rather than venture out into old territory. I did make a daily visit to the McDonalds across the street. Sometimes, familiar food is what a Hobbit needs.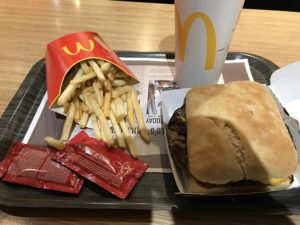 Well, let's see how things progress. Amsterdam is completely new to me. If I stay inside the whole week, then I will have to evaluate if this trip was the wisest choice I have made in recent years.
Here is a method for writing right, made into a rite.
Schedule a time to write every day.
Make the time short, so that it is easy to commit to. For me, fifteen minutes is good.
Then, at that time, sit down and write.
If you don't know what to write, think about what you want to write.
If you know what you want to write, think about what you want to say.
If the words don't come, simply sit and stare at the blank page. For every one of those scheduled minutes.
When the words come, write them. Don't edit. Don't correct. Just pour them onto the page.
You can always go back and edit them before you hit the publish button. And in today's digital age, you can even fix errors post-publication.
The idea is to get comfortable with writing at a regular time.
Get comfortable with creating.
Get comfortable with that glaringly white page.
Make the practice into a rite to help you write right.